SSO CHORUS MESSIAH 2023 - RESOURCES, REHEARSAL INFORMATION!
Performance date - SATURDAY November 25, 2023 4pm
Rehearsals - Tuesday evenings, 7:30 - 9pm Beginning Tuesday October 24, 2023.
No rehearsal October 31 (unless we want to have a combo rehearsal/haloween party?)
Rehearsals Tuesdays October 24, November 7,14, 21
IF NEEDED we may schedule a chorus only rehearsal at 1pm Saturday November 11 and/or Sat Nov 4 (we often offer the Saturday option for those who may have a Tuesday conflict, or who wish to get some extra practice)
Dress Rehearsal with orchestra: Sat Nov 18, from 9:30am - 12noon.
Concert Saturday Nov 25 at 4pm. Call/Warm-up time TBD - possibly 2 or 2:30pm
at Bethel Congregational Church 536 N Euclid Ave Ontario CA 91762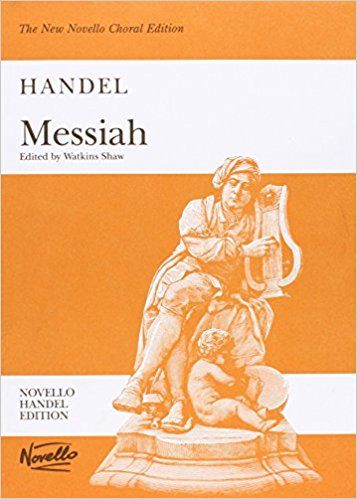 We use the Watkins Shaw Edition of Messiah - published by Novello.
If you wish to purchase a copy - here is a link to Amazon's listing (at last viewing it was $9.99)
https://smile.amazon.com/Messiah-Watkins-Shaw/dp/0853602115
Here is the listing from Sheet Music Plus. On May 2, 2022, it was listed at $9.99
https://www.sheetmusicplus.com/title/messiah-sheet-music/907780  
If you wish, you may use this pdf file of chorus music. Note - this file is the 2021 version. (Some returning members  have the 2019 version. The only difference is that the previous year versions have  rehearsal and performance dates for that year - so be sure to make note of this year's dates!)
PDF Music Messiah - Choruses only (2021 version ) CLICK HERE
PDF copy of the full-length piano/vocal score CLICK HERE (includes arias, appendix, etc.) 
We will be performing the following choruses:
#4. And the Glory
#7. And He Shall Purify
#9. And Thou That Tellest
#12. For Unto Us
#17. Glory to God
#21. His Yoke is Easy;
#44. Hallelujah
#53 Worthy is the Lamb (with the Amen)
Rehearsal Aids:
We Highly Recommend this site to get complete recordings of your voice parts, with a real singer. They also include tracks with just your notes being emphasized (played by an instrument), as well as recorded full performance tracks. In addition, they have sheet music with just your part and you can follow along...
There is a streaming/download option which is very reasonably priced - or you can get actual CDs and sheet music sets.
We have arranged for a 20% discount for our chorus members
The 20% discount code is:    SSO 
Get complete info about the whole line of ChoraLine resources on our choraline-messiah-info page (CLICK HERE to go there directly.)
Provided below are choraline video rehearsal demos with real singers (from YouTube) of the first 5 choruses for each part, as offered by Choraline. Included are
#4, And the Glory
#7. And He Shall Purify
#9, And Thou That Tellest
#12, For Unto Us
#17 Glory to God
In addition, we will be singing # 21(His Yoke is Easy); #44 (Hallelujah); and #53 (Worthy is the Lamb with Amen).
There is a possibility that for 2023, we will add an additional chorus - watch for updated info.
Soprano
Alto
Tenor
Bass
Complete performance - Sir Colin Davis - A great performance to use as a model. Our tempos are very close to these!
Here are some time links for the above video
Part I:
3:44 - Overture
7:36 - Comfort Ye My People
10:40 - Ev'ry Valley Shall Be Exalted
14:14 - And The Glory Of The Lord Shall Be Revealed
17:02 - Thus Saith The Lord Of Hosts
18:33 - But Who May Abide The Day of His Coming
22:51 - And He Shall Purify
25:13 - Behold, A Virgin Shall Conceive
25:38 - O Thou That Tellest Good Tidings To Zion
31:20 - For Behold, Darkness Shall Cover The Earth
36:56 - For Unto Us A Child Is Born
41:04 - Pastoral Symphony
44:15 - There Were Shepherds Abiding In The Field
45:51 - Glory To God In The Highest
47:52 - Rejoice Greatly, O Daughter Of Zion
52:30 - Then Shall The Eyes Of The Blind Be Open'd
53:00 - He Shall Feed His Flock/Come unto Me
58:00 - His Yoke Is Easy, His Burden Is Light
Part II:
1:01:36 - Behold The Lamb Of God
1:05:05 - He Was Despised
1:15:05 - Surely He Hath Born Our Griefs
1:17:30 - And With His Stripes We Are Healed
1:20:03 - All We Like Sheep Have Gone Astray
1:24:10 - All They That See Him
1:25:00 - He Trusted In God
1:27:27 - Thy Rebuke Hath Broken His Heart
1:29:55 - Behold, And See If There Be Any Sorrow
1:31:23 - He Was Cut Off Out Of By The Land Of The Living
1:31:44 - But Thou Didst Not Leave His Soul
1:34:15 - Lift Up Your Heads, O Ye Gates
1:37:34 - Unto Which Of The Angels
1:37:49 - Let All The Angels Of God Worship Him
1:39:15 - Thou Art Gone Up On High
1:42:38 - The Lord Gave The Word
1:43:48 - How Beautiful Are The Feet
1:46:14 - Their Sound Is Gone Out
1:47:50 - Why Do The Nations So Furiously Rage
1:50:33 - Let Us Break Their Bonds Asunder
1:52:17 - He That Dwelleth In Heaven
1:52:33 - Thou Shalt Break Them
1:54:39 - Hallelujah Part III:
2:02:20 - I Know That My Redeemer Liveth
2:08:12 - Since By Man Came Death
2:10:33 - Behold, I Tell You A Mystery
2:11:12 - The Trumpet Shall Sound
2:20:07 - Then Shall Be Brought To Pass
2:20:25 - O Death, Where Is Thy Sting?
2:21:34 - But Thanks Be To God
2:23:42 - If God Be For Us
2:28:33 - Worthy Is The Lamb That Was Slain
2:32:09 - Amen