The Southland Symphony Orchestra announces the continued growth of The Southland Symphony Orchestra Chorus!
The Southland Symphony Orchestra Chorus is part of the SSO family, joining in concerts with the Southland Symphony Orchestra. The chorus is a volunteer organization, open to all singers. (A voice placement audition may be required of new members.) 
The chorus is a growing, dedicated group of singers from the community. We made our debut at the "Tribute to Democracy" Concert with the SSO on Sunday October 23rd, 2016 at 4pm at Bethel Congregational Church.
Under the direction of Dr. Sylvia Lee Mann, the orchestra and chorus bring wonderful music to the city of Ontario, and our neighboring communities.
During the 2016-17 season we presented the "Requiem" by Wolfgang Amadeus Mozart, at our Sunday March 5th concert, a performance which resulted in special recognition from "Distinguished Concerts International New York", and an invitation to The Southland Symphony Chorus to participate in a performance of Mozart's Requiem on the Distinguished Concerts International New York Concert Series in New York City.
For the 2017-18 season opening concert on Sunday October 8th, we presented Beethoven's Choral Fantasy, as well as his "Hallelujah" from The Mount of Olives; on December 10th, we presented Handel's "Messiah", and of course we traveled to New York City and again performed Mozart's Requiem, this time in a stellar performance with DCINY on Monday, February 19, 2018 – President's Day Weekend- in Carnegie Hall's Isaac Stern Auditorium under the baton of Dr. James Meaders, and we were there! And more big news - we have an open invitation to return!
In 2018-19, In what has become an annual tradition, we again presented "Messiah" to a full house on Sunday December 9th. Our spring concert, entitled "Beauty and Power", featured  Faure's Requiem and his "Cantique de Jean Racine", as well as selections from Mendelssohn's Elijah and Brahms' Requiem
And for the 2019-20 season, we presented Handel's Messiah on Sunday December 8th. We were planning on  performing the monumental 9th Symphony of Beethoven at our Season Finale, May 31, 2020, but COVID interfered.
Our 2021-22 Season again brought our annual "Messiah, AND Beethoven 9 for the Season Finale!
As we begin our 2022 - 23 season, we are excited to present the pre-season "Summer Joy: Bach" Concert on Saturday April 13 at 11am. Messiah will be presented on Sunday December 11th at 4pm, and there will be more throughout the season. Some of our singers will join in the joint SSO/Repertory Opera production of Amahl and the Night Visitors - scheduled for Jan 8, 2023.  The Season Finale will be on Sunday May 7, 2022.
Openings exist in all voice categories. Please join us.
WOW - we have a Facebook Page ! Check it out!
Dr. Sylvia Lee Mann - Conductor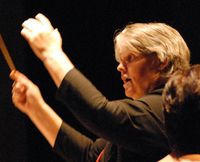 Dr. Sylvia Lee Mann is an internationally recognized conductor, composer, violist, author, speaker, multi-instrumentalist and virtuoso performer, appearing with many musical ensembles in the Southern California area and across the nation. Currently on the faculty at Chaffey College, Dr. Mann has also served at California State University Dominguez Hills (in both the Music and Humanities Departments), St. Teresa's Open Catholic Seminary, and Centenary College of Louisiana. 
She is an ordained minister in the United Church of Christ, serving as the Pastor & Minister of Music at Bethel Congregational Church, UCC, of Ontario, CA, and holds leadership positions in the Eastern Association of the Southern California Conference of the UCC. 
Dr. Mann is the Music Director & Conductor of the Southland Symphony Orchestra and Chorus, Conductor of the Temecula Valley Jr. Youth Symphony, and a popular guest conductor throughout Southern California. Most recently, she has accepted the position of Music Director and Conductor of the La Verne Symphony Orchestra, effective Spring 2023
Of recent special interest, during the COVID-19 crisis and quarantine, in partnership with MUSICO, Sylvia developed a robust online music learning and performance system for the musicians at Bethel UCC, as well as both the Southland Symphony and the Temecula Valley Youth Symphony programs. The organizations produced virtual performances throughout the quarantine, and now, are excited to be making music live and in-person again. A frequent performer with The Chamber Orchestra of the South Bay, La Mirada, Temecula Valley, Coachella Valley and Whittier Regional Symphony Orchestras, a collaborator with the Repertory Opera Company and Desert Baroque, she is the principal violist of the Temecula Valley Symphony Orchestra, the Culver City and Marina del Rey Symphony Orchestras.
In addition, Sylvia is honored to be a featured guest conductor at Carnegie Hall (New York City) Stern Auditorium/Perelman Stage for the 41st season of MidAmerica Productions International NY. She will be conducting a special concert in April of 2024, featuring John Rutter's Gloria and Te Deum. 
She completed undergraduate studies at Chapman University, and graduate studies at the University of Southern California & London University. As a violist and violinist, she studied with many distinguished teachers, tracing the pedagogical line back to Ivan Galamian.  As a composer, her mentors include William Kraft, Gunther Schuller, and Samuel Adler. Her conducting studies included such notable pedagogues as John Koshak, Hans Beer, Daniel Lewis, James Vail, Rodney Eichenberger, Gunther Schuller, and Neville Mariner.
Originally from Los Angeles, Dr. Mann resided in Louisiana from 1987 - 2002, where she served as the principal violist of the Shreveport Symphony Orchestra, the Baroque Artists of Shreveport and violist of the Premier String Quartet, and was the Director of the Ark-La-Tex Youth Symphony Orchestra program. She also enjoyed performing with the popular all-woman rock band, "Lip Service" and was the recipient of the Shreveport LA Regional Arts Council's prestigious Music Fellowship Award. 
Sylvia's music is heard on the concert stage, in film, television, and media outlets. Works have also been commissioned and performed by many orchestras, and she was featured in the Culver City Symphony's historic concert, "The American Beat - Women Composers". Dr. Mann and her orchestras have been recognized by the City of Ontario and the City of West Covina, as well as Los Angeles and San Bernardino Counties. The County of Los Angeles, and L.A. County Fair recognized her as a "Community Hero" for her work in the arts, and she received "Woman of the Year in the Arts" awards from the California State Legislature and the US House of Representatives. She has also received multiple awards from CSUDH for her scholarship, research and creative activities, as well as for her outstanding participation in the CSU/CSUDH Affordable Learning Solutions Initiative and contribution to student learning. She is an ACME Honoree of Mu Phi Epsilon.
To see her in action -  here is a link to a brief video with some pics and media clips! https://vimeo.com/734507588 
More information about Dr. Mann, her performances, appearances and original compositions can be found at http://sylvialeemann.com.