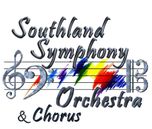 SOUTHLA
ND SYMPHONY ORCHESTRA CHORUS
The Southland Symphony Orchestra Chorus is part of the SSO family, joining in concerts with the Southland Symphony Orchestra. The chorus is a volunteer organization, open to all singers. (A voice placement audition may be required of new members.)
2022-23 Season
the season begins!
MESSIAH is coming again to Ontario
with the Southland Symphony Orchestra and Chorus
This year's performance will be
Sunday December 11, 2022 at 4pm
at Bethel Congregational Church, 536 N Euclid Ave Ontario CA 91762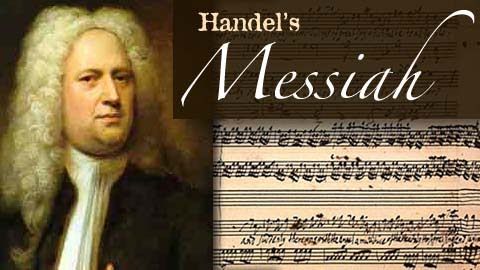 MESSIAH Tickets
Sunday December 11, 2022 at 4pm
$20 - PREMIUM VIP (includes premium seating, 12 door prize tickets, special treat bag!)
$10 - General Admission (includes 6 door prize tickets)
$5 - Budget/Or buy one for someone who needs a ticket
(Free admission always available for those who really can't afford a ticket!)
To join the SSO chorus,
fill out our Join the Chorus Google Form
https://forms.gle/Y7kXa6QvSBE9JzMs6
Get more info by emailing drmann@ssochorus.com
OR - just come to a rehearsal!
(Tuesdays at 7pm at Bethel Congregational Church Ontario California)
MESSIAH 2022 - Rehearsals begin Tuesday Nov 1st
Some additional, optional Saturday rehearsals will be offered
RECENT EVENTS with the SSO Chorus:
Summer Joy : Bach
"Jesu, meine Freude" BWV 227
Saturday August 13 at Bethel Congregational Church in Ontario CA 91762
Our Very Special Summer Project with SSO Chorus members and friends
Also on the program :
Wachet auf, ruft uns die Stimme, BWV 140: Aria Duet. "Mein Freund ist mein!" (Soprano, Bass)

"Arioso" from Cantata BWV 156 "Ich steh mit einem Fuss im Grabe"

and more....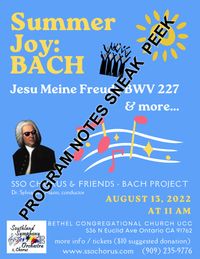 See the Program Notes - CLICK HERE!
---
---
Did you experience our June 5, 2022 Season Finale - Beethoven Symphony No. 9?
Didi you miss the concert?
Watch the Video on our Vimeo Channel!
Check out the 2021 MESSIAH performance as experienced from the Balcony:
And here it is from the ground floor!
The 2017 Messiah Concert was also pretty FANTASTIC!
Here's a clip from that year's event:
or use this link to sign up
https://form.jotform.com/62574681117156 
WOW - we have a Facebook Page too! Check it out!
https://www.facebook.com/southlandsymphonychorus/
Donate here - We need your support
Donate to the Southland Symphony Orchestra & Chorus. Help us continue to bring you fantastic music!
Who wants to be a part of the
SOUTHLAND SYMPHONY ORCHESTRA CHORUS?
Now growing - accepting new members
Spread the word. Sign up.
or use this link to sign up
Our Annual presentation of Handel's MESSIAH!