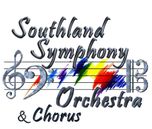 SOUTHLA
ND SYMPHONY ORCHESTRA CHORUS
The Southland Symphony Orchestra Chorus is part of the SSO family, joining in concerts with the Southland Symphony Orchestra. The chorus is a volunteer organization, open to all singers. (A voice placement audition may be required of new members.)
MOST RECENT EVENT with the SSO Chorus:
Our Very Special Summer Project with SSO Chorus members and friends
Summer Joy : Bach
"Jesu, meine Freude" BWV 227
Saturday August 13 at 11am
Bethel Congregational Church 536 N Euclid Ave Ontario CA 91762
featuring some of our finest choristers, with selected Southland Symphony instrumentalists
Also on the program :
Wachet auf, ruft uns die Stimme, BWV 140: Aria Duet. "Mein Freund ist mein!" (Soprano, Bass)

"Arioso" from Cantata BWV 156 "Ich steh mit einem Fuss im Grabe"

and more....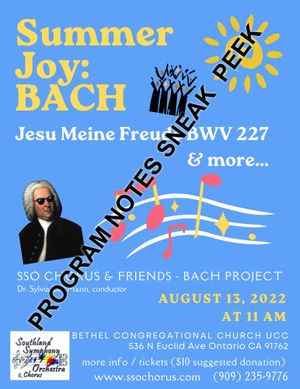 See the Program Notes - CLICK HERE!
- if you are interested in being a part of the project, contact Dr. Mann (drmann@ssochorus.com)
---
---
Did you experience our June 5, 2022 Season Finale - Beethoven Symphony No. 9?
Didi you miss the concert?
Watch the Video on our Vimeo Channel!
Check out the Dec 12, 2021 MESSIAH performance as experienced from the Balcony:
And here it is from the ground floor!
The 2017 Messiah Concert was also pretty FANTASTIC!
Here's a clip from that year's event:
or use this link to sign up
https://form.jotform.com/62574681117156 
WOW - we have a Facebook Page too! Check it out!
https://www.facebook.com/southlandsymphonychorus/
Donate here - We need your support
Donate to the Southland Symphony Orchestra & Chorus. Help us continue to bring you fantastic music!
Who wants to be a part of the
SOUTHLAND SYMPHONY ORCHESTRA CHORUS?
Now growing - accepting new members
Spread the word. Sign up.
or use this link to sign up
Our Annual presentation of Handel's MESSIAH!